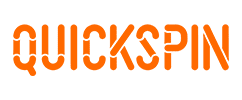 QuickSpin management team is composed of Daniel Lindberg, Mats Westerlund, and Joachim Timmermans.
Together, they have accumulated more than a decade's worth of experience working for reputable game development companies such as Net Entertainment and Unibet Group Plc. As with most of its competition, the game development company has made sure that its games and platform are duly licensed and regulated by the reputable UK Gambling Commission.
Products and Games
Games are what make or break an online casino. Quickspin understands that in order for an online casino to be truly successful, its games will have to be consistent in terms of quality and gameplay. For this reason, the games that this company develops are not only easy to navigate and play but also offer a visual gaming experience unlike any other. The company also tries to avoid cookie-cutter games and instead focuses on providing its partner operators with custom-made titles.
This allows operators to differentiate their online casinos from their competitors which in turn is effective at attracting and retaining players. So far, the majority of games that Quickspin has released are all video slots. Illuminous, Razortooth, Hidden Valley, Big Bad Wolf, Sugar Trail, The Three Musketeers, Royal Frog, Sinbad, King Colossus, Titan Thunder, The Epic Journey, and Jewel Blast are just some of the video slot titles that you're likely to find in an online casino that makes use of the company's solutions.
In addition to these games, the company has also developed games exclusively for certain social, online, and mobile casinos. Examples of these games are Goldilocks, Treasure Island, and Supernova. These were developed in tandem with Relax Gaming specifically for the Unibet Group's Spin City mobile casino application. It's not just the Unibet Group that has used Quickspin's expertise and content. In just 4 years, the company has gone on to supply its games for some of the most popular online and mobile casinos in the industry.
Summary and Conclusion
Quality games are what drive people to actively seek (and continue playing in) online casinos. Operators who want games that are developed with their players in mind would do well to consider a partnership with Quickspin. Sure it's not as established as older game development companies like Net Entertainment but that shouldn't mean that it's not as good or even better at developing video slots.
Just how good are the company and its games? The company's Big Bad Wolf video slot won the Game of the Year Award given during the 2013 edition of the EGR Operators Award. If that doesn't convince you then you'd better check out the company's website to know more about its games and software solutions for your online or mobile casino.