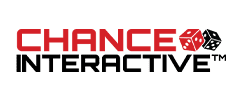 Chance Interactive is a fairly new casino gaming software development company that was established in 2014. The company is headquartered in Australia and is currently focused on creating video slot content. As of now, not much is known about the company due to the relatively new it is.
Despite the age of the company though, its game development team isn't a pushover by any means. They've already helped in the development and integration of dozens, if not hundreds, of games for a multitude of platforms. The team guarantees that they'll be able to get their games to work on any platform.
Products and Games
Currently, Chance Interactive only has 4 casino games in its library and all of these are video slots. This is understandable though considering the company has only been around for two years. In addition, the video slots that they've developed so far have been really good.
Canyon Cash is a Wild West-themed video slot that has Free Spins and Cowboy Wilds that players are going to like. Its graphics might make it look cartoony but it does offer challenging yet rewarding gameplay for veteran and inexperienced video slots players alike. Another of the company's developed video slots is the candy-themed Lolly Land. Much like Canyon Cash, it also has Free Spins that go together with a generous Respins (with Expanded Wilds) feature.
Operators who have players who like realistic, science fiction-themed video slots will undoubtedly love the company's Bounty Hunt video slot. This features Guaranteed Wilds on every spin plus free spins to further reward players. Finally, there's the circus-themed Buster Hammer which is perhaps the company's best-looking video slot. It has 243 ways to win features along with Random jackpots that players are going to love.
Aside from casino game development, Chance Interactive also offers software integration services. The company's development team prides itself on being able to work on almost any casino gaming platform. Another service being offered by the company is slot mathematical models. Operators who have ideas for their own video slots can rely on the company's development team to provide them with slot machine maths with their (the operator's) desired number of RTP variations.
One issue that people might raise about Chance Interactive is the lack of any licensing information on their website. While this might seem like a red flag, it certainly hasn't stopped popular sites like SlotsMillion from hosting the company's video slots (the most recent of which was Buster Hammer).
It's highly likely that the company already has an e-gaming license and it just hasn't updated its website as of yet. In any case, there's no doubt about the quality of the games that the company has developed so far. If they opt to get these games on their platforms, online casino operators will undoubtedly make their players happy. Curious about Chance Interactive now? Head on over to the company's official website to get in touch or to know more about their services.