paysafecard Casinos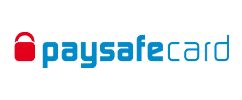 Paysafecard is one of the more popular, safe and trusted ewallets around so it makes sense that players want casinos that offer this option for depositing and withdrawing. 
Want security and convenience when paying for products or services online?
Top casinos related to this payment method
Overview
If you are and if its available in your region or country then you might want to use Paysafecard. This is an online prepaid payment method that doesn't require you to provide your financial or personal information to use. Online casino players are particularly familiar with this online payments platform thanks to its security. Like Neteller, the Vienna, Austria-based company and its platform are part of the Paysafe Group Plc and has been in operation for a decade now. In addition, it's also available in 43 countries worldwide. What makes it different (or better) than other secure online payment platforms though?
Ease of Use and Security
Paysafecard transactions are secure because they don't necessitate the use of the players' personal/financial information. Once a player purchases a Paysafecard prepaid card, he/she can automatically use it to deposit funds to his/her online casino account. All that's needed is for the player to input the card's 16-digit PIN on the supported online or mobile casino. Once the transaction is successful, the player can then start using his/her newly funded account to play his/her favourite casino games. Players can also choose from card denominations that range from $10, $25, $50, or $100 (these denominations will change depending on the country). It's even possible for players to keep track of their transactions by registering the prepaid cards' PINS that they bought using the my paysafecard feature on the Paysafecard site.
Special Features
Speaking of my paysafecard, it's arguably the best feature to use for players who want to keep track of their prepaid card purchases and subsequent deposits. By registering for a my paysafecard account, players can also make payments/deposits faster and easier. As long as they've associated a prepaid card's PIN to their my paysafecard accounts, players will only need to use their usernames and passwords any time they'd like to fund their online casino balances. A my pasafecard account holder can also request for a paysafecard debit MasterCard if he/she wishes to use the balance on his/her account on brick and mortar stores as well.
Availability and Customer Service
The only issue with the Paysafecard really is the fact that it's not as widely available as other online payment platforms such as Paypal or Neteller. As of now, this online prepaid payment solution is only limited to 42 countries. A majority of these are from Europe, North & South America, Oceania, and a few countries in the Middle East. Players who are residing in Asia (China and Japan) as well as some countries in South America (Brazil is one example) won't be able to use this platform since there aren't any stores that sell the prepaid cards. However, there's arguably no better (or safer) payment platform to use than Paysafecard for players residing in countries where it's available. It's extremely convenient and eliminates a lot of the issues associated with online transactions. In addition, the platform is supported by popular online casinos and sportsbooks such as Unibet, Betsson, and even Bet365.